PINGAS IS A PINGAS IS A PINGAS!!!!! DOCTOR ROBOTNIK LIKES PINGAS AND DINNER FOR MAH BOI! ONE TIME I TOLD ROBOTNIK THIS IS SPARTA AG H AND KICKED HIM INTO THE PIT OF DOOM BUT HE USED HIS PINGAS TO GET A BONER AND CLIMB OOUT OF THE PIT>
NEEDLESS TO SAY< I HOPE SHE MADE LOTS OF SPAGHETTI! I WAS ONCE IN FRANCE ENJOYING SOME FINE CANADIAN BACON WHEN THE WAITER AT THE CHINESE RESTRANT CAME (LOL) AND TOLD ME THAT I HAT TO SURRENDER MY ALMIGHTY PINGAS! I WAS LIKE NO BITCH! I"M GOING BACK TO THE
BOWSER!


THEN I FIRED MY LAZER AT THE BACON AND LEFT FRAN CE>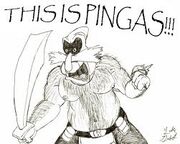 PINGAS IS PEEENGAWS!


ROCTOR DOBOTNIK!


PINGAS IS KNOWN AS A SYMBOL FOR ALL THE PIES IN TEH WORLD> IN THE CASE OF THE CASE< I CHEWS NOT TO CASE MY CASE> PIONGAS@!#@##@#@#!@#!@#!@#!#@!#!#!!@#!!@#@#@@@@@22
I HAVE TWO PINGASES BUT ONE OF THE BALLS ARE INERT> I HAVENT BEEN KEEPING TABS ON THE MAN OH NOES!
ERRDOSAD>
And, Homestar Runner is pretty cool.